Lawnmower Maintenance Schedule
WB20ZB7 and WB450A models
MAINTENANCE SCHEDULE
FILL IN DATES
AS YOU COMPLETE
REGULAR SERVICE

BEFORE EACH USE

AFTER EACH USE

EVERY 10 HOURS

EVERY 25HOURS OR EVERY SEASON

BEFORE STORAGE

SERVICE DATES

M
O
W
E
R

Check for loose fasteners

√

√

Clean/Inspect Grass Catcher (If Equipped)

√

√

√

Clean Lawnmower

√

√

Clean Under Drive Cover (Power-Propelled Mowers)

√4

Check/Sharpen/Replace Blade

√3

Lubrication Chart

√

√

E
N
G
I
N
E

Check Engine Oil Level

√

Change Engine Oil

√1、2

Clean Air Filter

√2

Inspect Muffler

√

Clean or replace Spark Plug

√

Replace Air Filter Paper Cartridge

√
Change more often when operating under a heavy load or in high ambient temperatures.
Service more often when operating in dirty or dusty conditions.
Replace blades more often when mowing in sandy soil.
GENERAL RECOMMENDATIONS
The warranty on this lawn mower does not cover items that have been subjected to operator abuse or negligence. To receive full value from the warranty, operator must maintain mower as instructed in this manual.
Some adjustments will need to be made periodically to properly maintain your unit.
All adjustments in the Service and Adjustments section of this manual should be checked at least once each season.
Once a year, replace the spark plug, clean or replace air filter element and check blade for wear. A new spark plug and clean/new air filter element assures proper air-fuel mixture and helps your engine run better and last longer.
Follow the maintenance schedule in this manual.
WARNING:MAKE SURE DOING ALL OPERATIONS WHEN THE ENGINE STOPPED.
BEFORE EACH USE
Check engine oil level.
Check for loose fasteners.
LUBRICATION
Keep unit well lubricated(See"LUBRICATION CHART")
LAWN MOWER
Always observe safety rules when performing any maintenance.
TIRE
·Keep tires free of gasoline, oil, or insect control chemicals which can harm rubber.
·Avoid stumps, stones, deep ruts, sharp objects and other hazards that may cause tire damage.
BLADE CARE
For best results, mower blade must be kept sharp. Replace bent or damaged blades.
TO REMOVE BLADE
Disconnect spark plug wire from spark plug and place wire where it cannot come in contact with spark plug.
Turn lawn mower on its side. Make sure air filter and carburetor are down.
Use a woodblock between blade and mower housing to prevent blade from turning when removing blade bolt.
NOTE: Remove the blade adapter and check the key inside hub of blade adapter. The key must be in good condition to work properly. Replace adapter if damaged.
TO REPLACE BLADE:
Position the blade adapter on the engine crankshaft. Be sure key in adapter and crankshaft keyway are aligned.
Position blade on the blade adapter aligning the two (2) holes in the blade with the raised lugs on the adapter.
Be sure the trailing edge of blade (opposite sharp edge) is up toward the engine.
Install the blade bolt with the lock washer and hard washer into blade adapter and crankshaft.
Use block of wood between blade and lawn mower housing and tighten the blade bolt, turning clockwise.
IMPORTANT: BLADE BOLT IS GRADE 10.9 HEAT TREATED.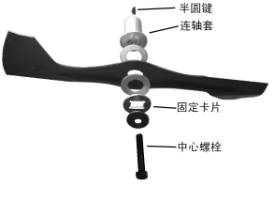 TO SHARPEN BLADE
NOTE: We do not recommend sharpening blade-but if you do, be sure the blade is balanced.
Care should be taken to keep the blade balanced. An unbalanced blade will cause eventual damage to lawn mower or engine.
·The blade can be sharpened with a file or on a grinding wheel. Do not attempt to sharpen while on the mower.
·To check blade balance, drive a nail into a beam or wall. Leave about one inch of the straight nail exposed. Place center hole of blade over the head of the nail. If blade is balanced, it should remain in a horizontal position. If either end of the blade moves downward, sharpen the heavy end until the blade is balanced.
GRASS CATCHER
·The grass catcher may be hosed with water, but must be dry when used.
·Check your grass catcher often for damage or deterioration. Through normal use it will wear. If catcher needs replacing, replace only with a manufacturer approved replacement catcher. Give the lawn mower model number when ordering.
DRIVE WHEELS
Check rear drive wheels each time you mow to be sure they move freely. The wheels not turning freely means trash, grass cuttings, etc. may be inside the drive wheel and dust cover area and must be cleaned out to free drive wheels.
If necessary to clean the drive wheels, check both rear wheels.
Remove hubcaps and locknuts.
Remove wheels form wheel adjuster axles.
Remove any trash or grass cuttings from inside the dust cover, pinion and/or drive wheel gear teeth.
If you remove the drive pinions, wipe clean with dry cloth. Reassemble dry. Do not lubricate. Do not use oil or grease.
NOTE: The pinion gear, on both sides of the mower, are the same, however, they must be installed correctly. If installed incorrectly, the drive system will not work.
There are arrows embossed on both sides of the pinion gear. With the arrow at the top of the pinion, the arrow must point towards front of mower. If the arrow points to the rear, turn the pinion around and assemble to mower.
Place wheels back on adjuster axles.
Replace locknuts and hubcaps.
ENGINE
Read the Maintenance section of your engine manual.
LUBRICATION
Use only high quality detergent oil rated with API service classification SF-SJ. Select the oil's SAE viscosity grade according to your expected operating temperature.

NOTE: Although multi-viscosity oils (5W30,10W30 etc) improve starting in cold weather, these multi-viscosity oils will result in increased oil consumption when used above 32°F. Check your engine oil level more frequently to avoid possible engine damage from running low on oil.
Change the oil after every 25hours of operation or at least once a year if the lawn mower is not used for 25hours in one year.
Check the crankcase oil level before starting the engine and after each five (5) hours of continuous use. Tighten oil plug securely each time you check the oil level.

TO CHANGE ENGINE OIL
NOTE: Before tipping lawn mower to drain oil, drain fuel tank by running engine until fuel tank is empty.
Disconnect spark plug wire form spark plug and place wire where it cannot come in contact with spark plug.
Remove engine oil cap; lay aside on a clean surface.
Tip lawn mower on its side as shown and drain oil into a suitable container. Rock lawn mower back and forth to remove any oil trapped inside of engine.
Return lawn mower to upright position. Wipe off any spilled oil from lawn mower or side of engine.
Fill engine with oil. See "ADD OIL" in the Operation section of this manual.
Reconnect spark plug wire to spark plug.
AIR FILTER
Your engine will not run properly and may be damaged by using a dirty air filter. Clean the element after every 25hours of operation, more often if lawn mower is used in very dusty, dirty conditions.
See the maintenance section of your engine manual.
MUFFLER
Inspect and replace corroded muffler as it could create a fire hazard and/or damage.
SPARK PLUG
Change your spark plug each year to make your engine start easier and run better. Set spark plug gap at.030 inch.
CLEAMING
IMPORTANT: FOR BEST PERFORMANCE, KEEP MOWER HOUSING FREE OF BUILT-UP GRASS&TRASH. CLEAN THE UNDERSIDE OF YOUR MOWER AFTER EACH USE.
CAUTION: Disconnect spark plug wire from spark plug and place wire where it cannot come in contact with spark plug.
Clean the underside of your lawn mower by scraping to remove build-up of grass and trash.
Clean engine often to keep trash from accumulating. A clogged engine runs hotter and shortens engine life.
Keep finished surfaces and wheels free of all gasoline, oil, etc.
We do not recommend using a garden hose to clean lawn mower unless the electrical system, muffler, air filter and carburetor are covered to keep water out. Water in engine can result in shortened engine life.